AIDS WALK & RUN BOSTON 2018
Sunday, June 3rd marked the 33nd AIDS Walk & Run Boston on the Boston Common. Thousands of people in Greater Boston and beyond signed up to raise money for the programs and services of AIDS Action, as well as start conversations with friends and family about HIV prevention, care, and advocacy. The grassroots efforts of these supporters are critical to AIDS Action's goals each year, allowing us to continue providing our clients with critically needed services.
Last year's AIDS Walk & Run Boston raised vital funds with the help from leading fundraising teams like The Ragon Institute of MGH, MIT, and Harvard and John's Team, who displayed exemplary dedication in 2018 raising over $71,000, and $33,000 respectively. Other notable teams include Brown Middle School ($12,000), Divas & Devils ($12,000), AIDS Action ($13,000) and Grand Circle Travel ($10,000). The top five individual fundraisers in 2018 were Bruce Walker, Kelly Rush, Jonathan Urbach, Jim Haber and Warren Schur.
Corporate sponsorship comprises a large part of AIDS Walk Boston's fundraising goals, accounting for 20% of the funds raised. Whole Foods Market once again hosted our Wellness Festival to promote healthy living to our participants. Our friends at Macy's also continued their matching donation program for self-pledges up to $20,000 made by AIDS Walk participants. In 2018, we welcomed new sponsors Dunkin' Donuts, Heartbreak Hill Running Company, and Joint Ventures Physical Therapy and Fitness.
of funds raised are from corporate sponsorships
Dunkin' Donuts, under the leadership of Dave Hoffman, received the Bette Byrnes Award which recognizes an individual or team that has promoted HIV education and awareness among youth.
INspire Dunkin's AIDS Walk fundraising team has raised nearly $25,000 over the past two years and their Joy in Childhood foundation has supported Youth on Fire with a total of $12,500 in 2017. Dunkins' dedicated members have gone above and beyond, working hard not only support the agency but to engage and educate their team about the work of AIDS Action.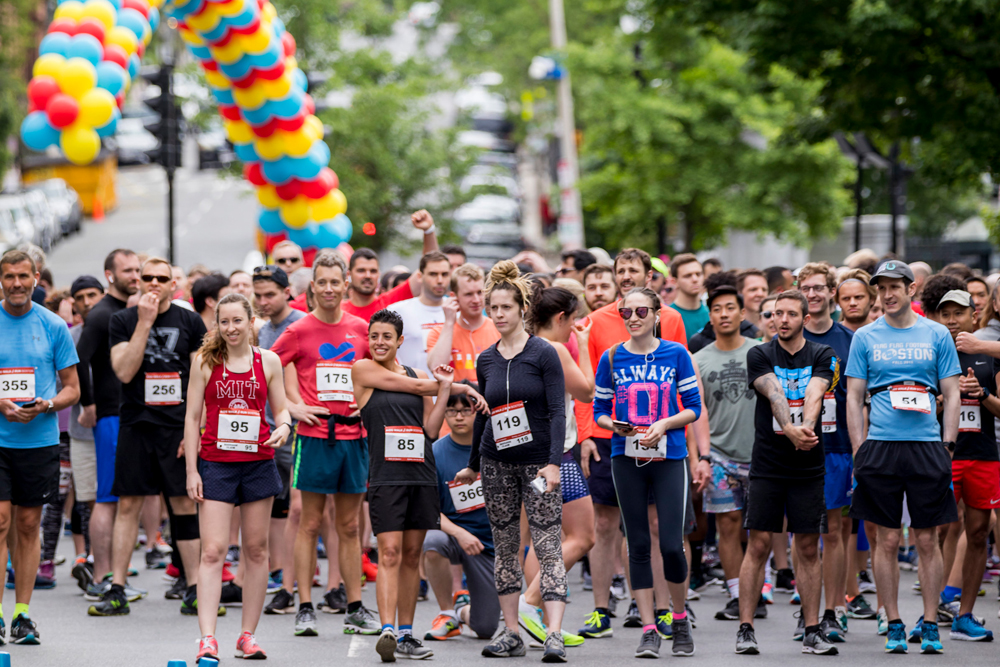 INspire Dunkin' Donuts Team
Ruby Sponsor
Macy's
Presenting Wellness Festival Sponsor
Whole Foods Market
Emerald Sponsor
American Heart Association/American Stroke Association
Sapphire Sponsors
Beth Israel Deaconess Medical Center
Eastern Bank
Gilead Sciences, Inc.
Amethyst Sponsors
Partners HealthCare
Patriot Care
Pfizer, Inc.
Wellness Associates
Abt Associates
Planned Parenthood
Walgreens
Community Business Sponsors
Brigham and Women's Hospital
Heartbreak Hill Running Company
Joint Ventures Physical Therapy and Fitness
New England Carpenters Union*
ViiV Healthcare
Media Sponsors
Edge Media Network
iHeartMedia*
WCVB TV Channel 5
Yelp*
Official Airline Sponsor
JetBlue*
Official Breakfast Sponsor
Dunkin' Donuts*
* In-Kind Donation
Gold
AIDS Action Committee
Brown Middle School
Divas & Devils
Grand Circle Travel
INspire
John's Team
Ragon Institute of MGH, MIT, and Harvard
Team Maloney Properties
Vertex
Silver
Blue Man Group & Broadway In Boston
Team MAC
Beth Israel Deaconess Medical Center
MGH Cox 5 & Friends Team
Old South Church in Boston
Bronze

Board of Directors
Boomerangs and friends
Fenway Health
First Parish Arlington Social Justice
Green Team
Harvard – CBAR
Jimmy's Team
JSI/WEI
Marsh & McLennan Companies
Mayer-Virgile Family
Pegasystems
PRIDE KPMG
Raytheon GLBTA-NE
Schreiberian Running Club
Shan Hair
St. Paul AME Church, Cambridge, MA
Team EY
Team Peaches
Team Quest
Team Williams
2018 Cowbell Club Members
Amy Boger
Joshua Boger
Letitia Cheatham
Linda Cotter-Cranston
Merrill Davidson
Michael Fitta
Jim Haber
Julie Kaufmann
Kevin Matthews
Helene Mayer
Judy Rice
Kelly Rush
Ann Schlesinger
Stuart Schreiber
Warren Schur
Rita Tries
Jonathan Urbach
Bruce Walker
2018 Extra Mile Club Members
Edith Ablavsky
Bill Adams
Gary Bailey
Lauren Baino
Michael Baldwin von Brunow
Jules Becker
Christine Bricault
Julienne Carty
Shan Casey
Linda Cohen
Kristen Cole-Esson
James Cordero
Brian Corte
Kimberly Cummings
Amby Drake
Tim Feeley
Inez Folsom
Robert Frye
Lauren Gabovitch
Rajesh Gandhi
Sharon Glasser
Kathy Gonzalez
Gordon Gottlieb
Dawn Hadfield
Martha Hayward
Ava Henderson
Mikhaela Houston
Steven Jones
Mark Juaire
Marvin Kabakoff
Michael Kilcoyne
Peter Konrad
Stephen Kuehler
Christina Lacroix
Kristen Lascoe
Jessica Lomeli
Eileen MacDougall
Jonathan McIntyre
Azzam Mehssen
Elizabeth Messina
Chad Michael
Matthew Morin
Andrew Musgrave
Allison Newman
Kenneth Orth
Lamar Polk
Steven Poreca
Louise Rice
Michael Roffi
Dawnmarie Simpson
William Smaha
Christopher Stanley
Theresa Sullivan
Anna Tary
Patricia Ward
Catherine Webster
Daniel Williams
Scott Woolweaver
AIDS Walk photo credit: Caitlin Cunningham
TASTE OF THE SOUTH END
On March 20, 2018, AIDS Action once again hosted a fantastic culinary adventure at the annual Taste of the South End event – a premier food and wine experience uniting the best restaurants the South End has to offer and the neighborhood's commitment to fighting HIV/AIDS. Almost 1,000 guests from Greater Boston and beyond came out to sample delicious creations from the South End at the Boston Center for the Arts.
Guests bid on an extensive 100-item silent auction throughout the room and enjoyed our popular Mystery Bags and Fling-A-Ring wine toss game. Thank you to all of our in-kind donors for the fabulous destinations, restaurant gift cards and prizes that raised over $20,000!
To celebrate the return of ARTcetera in 2018, "A Taste of ARTcetera" surprised gourmands at Taste of the South End with an exhibit of AIDS Awareness posters from 1980s-2000s, a large scale interactive art wall, and artful Bombay Sapphire concoctions.
Our success is owed to our fabulous host committee led by Douglas Spencer and Pia Thakore Miller. This fantastic year, which proved once again to be one of the best food and wine events in the city, was also made possible by our generous sponsor partnerships, the Boston community, and 40 amazing restaurants who support us in excelling in our fundraising goals in support of AIDS Action. Taste of the South End continues to impress, raising over $150,000 to help support AIDS Action's critical programs and services.



Presenting Sponsor
Amazon
Ruby Sponsors
Harvard Pilgrim Health Care
Macy's
Emerald Sponsors
Eastern Bank
FMC Ice Sports
PBD Events*
Peterson Party Center*
Pfizer, Inc.
Sapphire Sponsors
345 Harrison
Eaton Vance Investment Managers
Gilead Sciences, Inc.
InterSystems
Venegas and Company
Whole Foods Market
Amethyst Sponsors
American Heart Association
Gaggle AMP
Nutter
Unit Realty Group
Community Business Sponsors
The City of Boston – Boston Charitable Trust Fund
Official Wine and Champagne Sponsors
The Martignetti Companies*
Argyle & Wither Hills
Carolina Wines
Copper Cane
& J. Gallo Winery
Lighthouse Brokers
Trinchero Family Estates
Vineyard Brands
Wagner Family of Wine
Official Beer Sponsor
Boston Beer Company*
Signature Cocktail Sponsor
Bombay Sapphire
Official Paper Goods Sponsor
Sysco*
Official Event Valet
Ultimate Valet*
Official Media Sponsors
Boston Spirit Magazine*
Edge Media Network*
Yelp*
A Taste of ARTcetera Sponsors
Bombay Sapphire
In-Kind Sponsors
Frost Productions*
Huntington Wine & Spirits*
PEAK Event Services*
Room & Board*
*In-Kind Donation
HOST COMMITTEE MEMBERS
Michael Cummings
Matt Fecteau
Glenn Gaudet
John Keith
Terry Light
May Ann Madlansacay
William and Susan Platt
Mike Robert and John Meyer
Tristan Rushton
Joe Schutt
Donna Venegas
Patrons
Gold
Darrell N. Smith
Edward Brody
Jim Canales
Timothy Harwood
Terrell Jordan
Kenny Lee
Sean McConnell
Kendra E. Moore
Bisola Ojikutu
Douglas W. Spencer
Silver
Steve Corkin and Dan Maddalena
Zach Durant-Emmons and Willis Emmons
Nancy Grigor
Beth Herrick
Edward Kinsella
Paul Lynch
Stephen Naso
Michael Robert
Tristan Rushton
Carl Sciortino
Robert Thompson
Rodney Vanderwarker
Travis Waldrop
Phil Finch
Susan Servais
Taste of the South End photo credit: Caitlin Cunningham
HARBOR TO THE BAY
Since its founding in 2003, Harbor to the Bay, a 125 mile AIDS benefit bike ride from Boston to Provincetown has raised over $5 million for four local HIV/AIDS organizations, including AIDS Action. 100% of all rider-received pledges directly supports the programs and services of the organization.
2017 was the eleventh year AIDS Action has participated, with 62 riders and crew members raising close to $60,000, bringing our organization total to nearly $900,000.00 over the past 11 years.
Riders
Kaan Apaydin
Ali Arslan
John Benoit
David Brian
Martin Burke
Alper Cesmebasi
Sarah Cunningham
Brian Derrick
Allon Dubler
Jesse Elton
Nick Elton
Erik Finlay
Gabrielle Fortier
Andi Genser
Ashley Hackett
Colin Hildenbrand
Nora Lutz
Ross Mattingly
Cameron Mcnay
Will Mcniece
Lawrence Reichle
Carrie Richgels
Matthew Romeiser
Dan Salera
Dan Sammon
Thomas Schwarz
Carl Sciortino
Vashti Selix
Gregory Snow
Joseph Sullivan
Neftalie Torres
Willahelm Wan
Brian Weiner
Team Captains:
Kaan Apaydin
Lawrence Reichle
Crew
Jason Aviles
Jean-Marie Bonofilio
Luke Bruffee
Geraldine Burns
Peggy Burns
Ginny Casey
Andy Diamond
Travis Gendron
Sharon Glasser
Jack Grzybala
Andy Huang
M. A. Ladd
Cameron Lawrence
Zeva Levine
Regina Manning
Jagadish Manvi
Sangeetha Manvi
Byron McAlpin
Chris McKinnon
Brooke O'Connell
Julian Post
Jonathan Potvin
Rana Ricard
Glenn Smart
Harold Steward
Jennifer Swanson
Paul Twitchell
Christian Widmer
Kimberly Wilson
Harbor to the Bay photo credit: Caitlin Cunningham
BAYARD RUSTIN COMMUNITY BREAKFAST
In 2018, the Bayard Rustin Community Breakfast celebrated its 29th annual gathering, exploring the theme Leaving No One Behind, Our Collective Responsibility. The Bayard Rustin Community Breakfast maintains a tradition of commemorating and celebrating the life and work of Bayard Rustin, one of the unsung heroes of the Civil Rights Movement. The breakfast recognizes the roles of individuals from LGBTQ communities of color in the fight against HIV/AIDS.

The event featured a keynote address by Dr. Bisola Ojikutu, Assistant Professor of Medicine at Harvard Medical School and an Associate Physician within the Division of Global Health Equity at Brigham and Women's Hospital. In addition to the Bayard Rustin Award for Courage and the Belynda A. Dunn Award for Activism, the event also recognized Tona Hines for her courage in sharing her personal story and Chair, Dwayne Steward, for his commitment to the breakfast and the community. Performances by Gordon Michaels and Sam Ou at the JFK Presidential Library and Museum rounded out the memorable program.

Co-Chairs
Dwayne Steward
Kimberly Wilson
Committee Members
Keith Brinkley
Roger Carter
Jack Casey
Harold du Four-Anderson
R. Mason
Philip Robinson
Lawrence Vinson
Reina Ysaguirre-Boersma
Principal Sponsor
Gilead Sciences, Inc.
Emerald Sponsors
Fenway Health
Gourmet Caterers*
Sapphire Sponsors
American Heart/American Stroke Association
Babson College
Bentley University
Beth Israel Deaconess Medical Center
Victory Programs
Community Sponsors
BMen
Edge Media Network
Queeri
GLAD
Kimba McCant and the Rhumbline Advisors
Khari Charles
*In-Kind Donation
2018 Awards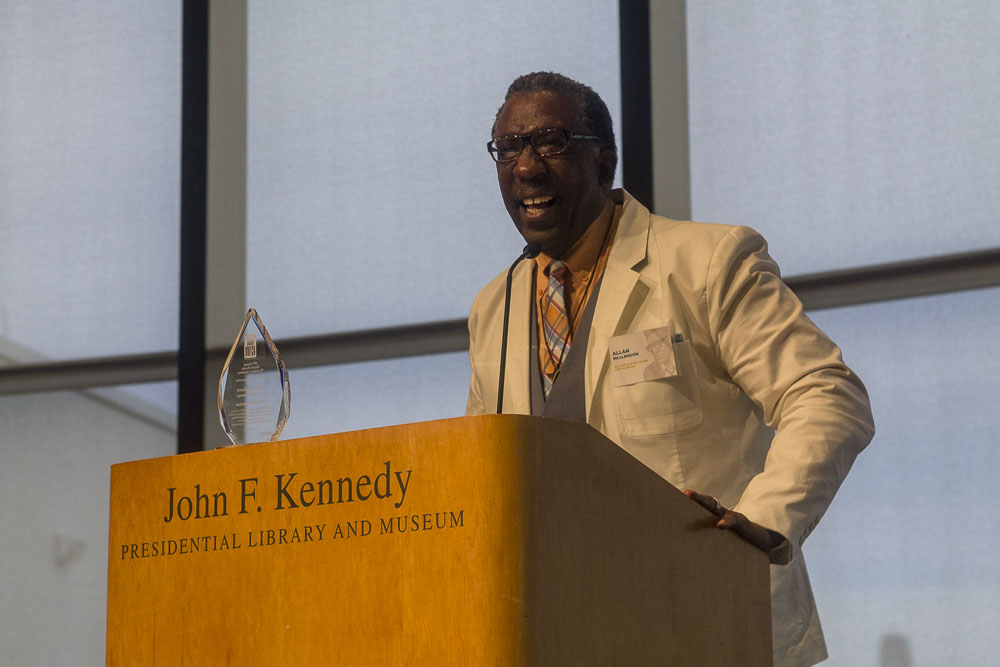 Bayard Rustin Award for Courage
Allan McClendon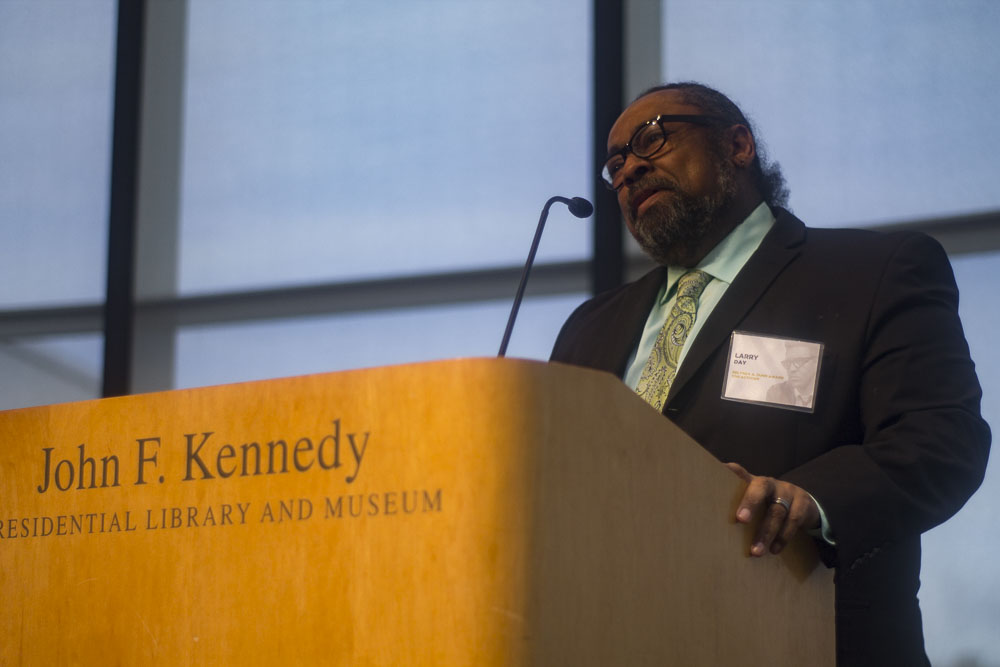 Belynda A. Dunn Award for Activism
Larry Day
Bayard Rustin photo credit: Isatta Coomber
CHANDLER STREET BLOCK PARTY
A Boston Pride tradition, AIDS Action hosted the annual Chandler Street Block Party on June 9th immediately following the Pride Parade. Chandler Street Block Party draws over 4,000 revelers to dance and socialize outdoors in the heart of Boston's South End neighborhood. The 2018 event brought in more than $100,000 to help fund the programs and service of AIDS Action and support local LGBTQ sports leagues.
Presenting Sponsor
Bud Light
Major Sponsor
Cambridge Trust Company
Associate Sponsors
Barefoot Wine
New England Security*
*In-Kind Donation
SCOTT RIKLIN MEMORIAL GOLF TOURNAMENT
On June 8, 2018, the 22st Annual Scott Riklin Memorial Golf Tournament was hosted by the Riklin Family at the Juniper Hill Golf Course in Northborough, MA. Held each year since 1997 in memory of Scott Riklin, this grassroots event has become an important fundraiser for AIDS Action, with more than $90,000 raised to date. Special thanks to the event organizers, Jeff Riklin, Liz Reilly, and their generous supporters and donors.