AIDS Walk & Run Boston 2019
Sunday, June 2, 2019, DCR Hatch Memorial Shell
Sunday, June 2 marked the 34th AIDS Walk & Run Boston on the Boston Common. Thousands of people in Greater Boston and beyond raised $500,000 for the programs and services of AIDS Action, as well as starting conversations with friends and family about HIV prevention, care, and advocacy. These supporters make a huge difference in people's lives and allow AIDS Action to provide our clients with much needed services.
These fundraising efforts would not be possible without both corporate and individual participants. Leading fundraising teams like Dunkin' Brands' Team Inspire, not only raised $21,701, but also served as our Official Breakfast Sponsor and donated gift cards to each of our 260 volunteers. Other top fundraising teams included The Ragon Institute of MGH, MIT, and Harvard ($64,904), John's Team ($28,880), Vertex ($15,000), and Team Fenway Family ($14,412). The top five individual fundraisers in 2019 were Bruce Walker, Jim Haber, Jonathan Urbach, Kevin Matthews, and Warren Schur.
of funds raised ($70,477) come from our corporate sponsors and their teams.
Each year, the AIDS Walk & Run presents the Bette Byrnes Award, which recognizes an individual or team that has promoted HIV education and awareness. 2019's recipient was Kelly Rush, who was recognized for his inspirational commitment to the AIDS Walk and leadership in fundraising.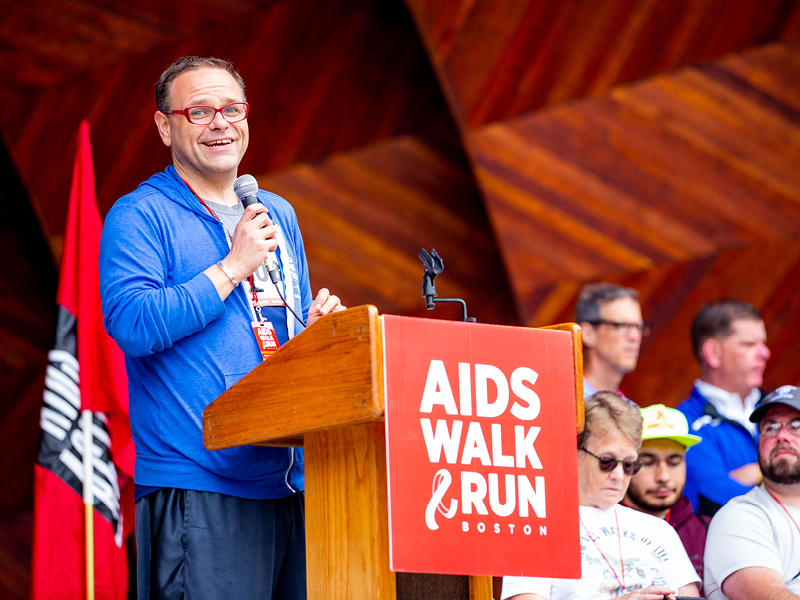 The festive atmosphere of AIDS Walk & Run Boston would not have been possible without the incredible performers, amazing food vendors, and special guest Carmen Carrera, who gave a moving talk about her deep connection to the cause. A special thanks to Boston Mayor Marty Walsh you helped kick off the event. Thank you to the performers who made it a fun day, including Shea Rose who headlined the event, Sarah Khatami, Brookline High Poets, JP Delgado, and more. Thank you to our wonderful food providers Da Bomb Foods, Zinneken's, Mimzees Ice Cream, and Sisters of Anarchy Ice Cream.
AIDS Walk photo credit: Caitlin Cunningham
Sapphire Sponsors
Gilead
BIDMC
Eastern Bank
Amethyst Sponsors
Partners Health Care
Pfizer
Wellness Associates
Abt Associates
Planned Parenthood
Brigham and Women's
Community Business Sponsors
Ameriprise Financial
Heartbreak Hill Running Company*
New England Carpenters Union*
Nift*
Media Sponsors
WCVB*
Kiss 108 FM*
97.7 The New*
JAM'N 94.5*
Edge Media Network*
* In-Kind Donation
Official Airline Sponsor
JetBlue*
Official Breakfast Sponsor
Dunkin'
* In-Kind Donation
Gold Team
Beth Israel Deaconess Medical Center
Blue Man Group & Broadway In Boston
Boston Ironsides RFC/Divas & Devils
Grand Circle Travel
INspire
John's Team
Old South Church in Boston
Ragon Institute of MGH, MIT, and Harvard
Team Fenway Family
Team MAC
Team Maloney
Vertex
Silver Team
Board of Directors
Boomerangs and friends
Brown Middle School
MGH Cox 5 and Friends
Schreiberian Running Club
Shan Hair
Standing Strong – AIDS Action North Shore
Bronze Team

Dignity Boston
Harvard – CBAR
Jimmy's Team
Mayer-Virgile Family
PRIDE@BCG
Raytheon GLBTA-NE
St. Paul AME Church, Cambridge, MA
Team Liz
Team Peaches
Team Williams
Wiley
2019 Cowbell Club Members
Bill Adams
Michael Baldwin
Amy Boger
Joshua Boger
Shan Casey
Letitia Cheatham
Linda Cotter-Cranston
Merrill Davidson
Jamie Davis
Amby Drake
Michael Fitta
Brian Giblin
Nancy Goldberg
Gordon Gottlieb
Jim Haber
Becky Hemperly
Julie Kaufmann
Kevin Matthews
Helene Mayer
Penny Nichols-Cordero
Kenneth Orth
Judy Rice
Louise Rice
Kelly Rush
Ann Schlesinger
Stuart Schreiber
Warren Schur
Rita Tries
Jonathan Urbach
Bruce Walker
Daniel Williams
2019 Extra Mile Club Members
Lauren Baino
Jules Becker
Christine Bricault
Paul Buzzell
Shari Caplan
Carmen Carrera
Julienne Carty
Victorio Chacon
Linda Cohen
Kristen Cole-Esson
Brian Corte
Kimberly Cummings
Andrew D'Agostino
Farah Fard
David Fontaine
Harrison Ford
Lauren Gabovitch
Rajesh Gandhi
Kavish Gandhi
Tony Godek
Kathy Gonzalez
Martha Hayward
Howard Heller
Bryan Horgan
Mikhaela Houston
Meghan Hynes
Steven Jones
Peter Konrad
Stephen Kuehler
Kristen Lascoe
Eileen MacDougall
Jonathan McIntyre
M. Azzam Mehssen
Chad Michael
Carolyn Millett
Yvonne Monge
Matthew Morin
Peg Nelson
Allison Newman
George Paolucci
Stevie Poreca
Susan Ragon
Michelle Rediker
Michael Rogan
Orly Shiner
Dawnmarie Simpson
William Smaha
Matthew Vecanski
Patricia Ward
Linda Wheeler
Scott Woolweaver
Joshua Young
Taste of the South End
March 19, 2019, Cyclorama, Boston Center for the Arts
On March 19, 2019, AIDS Action once again hosted a fantastic culinary adventure at the annual Taste of the South End. You are the reason that 2019 was such a success! This is Boston's premier food and wine experience that unites the best restaurants the South End has to offer with the neighborhood's commitment to fighting HIV/AIDS.
Almost 1,000 guests from Greater Boston and beyond came out to sample delicious food, live cooking demonstrations, wine and beer tasting, and more for an upscale night of fantastic food and culture. The event was made possible by our fabulous host committee, generous sponsor partnerships, the Boston community, and 40 amazing restaurants who support us in excelling in our fundraising goals in support of AIDS Action.
Taste of the South End continues to impress, raising over $150,000 to help support AIDS Action's critical programs and services. Thank you to all of our sponsors, restaurants, donors, attendees, and to all of our in-kind donors for the fabulous destinations, restaurant gift cards, and prizes that raised over $20,000 in the amazing silent auction!
Emerald Sponsors
Pfizer
FMC Ice Sports
Eastern Bank
Whole Foods Market
Sapphire Sponsors
Harvard Pilgrim Health Care
Gilead
InterSystems
Clarke
EverQuote
Venegas and Company
Official Wine and Champagne Sponsors
The Martignetti Companies*
Official Beer Sponsor
Boston Beer Company*
Official Spirits Sponsor
Diageo (Bulleit Fronteir Whiskey, Don Julio, Ketel One Botanical)
Official Paper Goods Sponsor
Sysco*
Official Event Valet
LAZ Parking/Ultimate Valet*
Official Media Sponsors
Boston Spirit Magazine*
Edge Media*
The Boston Globe*
Event Rental Partners
Frost Productions*
PEAK Event Services*
PBD Events*
*In-Kind Donation
Brian Bourquin
David DiCicco
Ed Feijo
Nathan Ingham
Michelle Losasso
Raul Medina
Stevie Poreca
Brian Samuels
Darrell Smith
Joe Schutt
Donna Venegas
Scott Walker
Gold Patrons: $1,000
Brian Bourquin
David DiCicco
Ed Feijo
Nathan Ingham
Michelle Losasso
Raul Medina
Stevie Poreca
Brian Samuels
Darrell Smith
Joe Schutt
Donna Venegas
Scott Walker
Silver Patrons: $500
Jim Canales and Jim McCann
Franc Castro and Richard McCarthy
Miles Jackson Childs
Keith Costa
Steve Elbaz
Philip Finch and William Halpin
Kymorha Hanson
Timothy Harwood
Ed Kinsella
Aaron Michlewitz
Stephen Naso
David Gagne and Devan Dewey
Tristan R. Rushton and Matthew F. Fecteau
Kelly Russo
Carl Sciortino and Francis Brown
Robert Thompson
Travis Waldrop
Anoush'ella
Aquitaine Bar a Vin Bistro
Banyan Bar + Refuge
Bar Lyon
Bar Mezzana
Barcelona Wine Bar
Beehive
Black Bird Doughnuts
Boston Chops South End
Brownstone
Cinquecento Roman Trattoria
Coda
Doña Habana
El Centro
Fazenda Coffee Roasters
Five Horses Tavern
Flour Bakery + Cafe
FoMu
Formaggio Kitchen South End
Frenchie Wine Bistro
Fuji At Ink block
Gaslight Brasserie
Haley House Bakery Cafe
Lion's Tail
Masa Latin Kitchen + Tequila Bar
Mela Modern Indian Cuisine
Metropolis
MIDA
Mistral Restaurant
Myers + Chang
Orinoco
Picco
Precinct Kitchen + Bar
Shore Leave
South End Buttery
Southern Proper
SRV
The Butcher Shop
The Elephant walk South end
The Gallows
Whaling In Oklahoma
ARTcetera
October 27, 2018, The Park Plaza Castle
More than twenty-five years ago, a group of Boston-area artists came together in response to the AIDS crisis, which was claiming the lives of so many of their friends, fellow artists, and colleagues. They created and organized the first ARTcetera, a contemporary art auction held at Boston City Hall, to raise money for AIDS Action. Over the years, ARTcetera has grown to become one of New England's premier art auctions and an essential funding source for AIDS Action.
ARTcetera 2018 raised almost $350,000, welcomed 425 attendees, and featured over 220 contemporary art pieces from artists including Bill Thompson, Kate Hush, Juan Travieso, and Salvador Dali. We are so grateful to Presenting sponsor Fidelity Investments. Thank you to Rafanelli Events, the Catered Affair, Urbanity Dance, and DJ Dayglow for creating ARTcetera magic! AIDS Action couldn't be more appreciative for the support of the artists, donors, and attendees whose generosity makes it possible for all funds raised at ARTcetera to go directly to changing lives.
ARTcetera photo credit: Caitlin Cunningham photography
Presenting Sponsor
Fidelity
Ruby Sponsors
AVFX*
The Catered Affair*
Nataliya Nada Luxury Accessories*
PBD Events*
Room & Board*
Rafanelli Events
Emerald Sponsors
Boston Common Magazine*
Boston Frameworks*
Boston Magazine*
Neiman Marcus
Port Lighting Systems*
Sapphire Sponsors
United Staging and Rigging*
Winston Flowers*
Amethyst Sponsors
Around the Corner Framing*
Be Our Guest, Inc.*
Boston Spirit Magazine*
Bully Boy Distillers*
Clark Fine Art Services*
Eaton Vance Investment Managers
Fenway Health
Privateer Rum*
U.S. Art*
Walgreens
Gallery Wall Sponsors
Abigail Ogilvy Gallery
Gallery Oh!
Krakow Witkin Gallery
SMFA at Tufts
Uprise Art
Media Partners
The Boston Globe*
Edge Media Network*
The Improper Bostonian*
Secret Boston*
*In-Kind Donation
Harbor to the Bay

September 15, 2019
Since its founding in 2003, Harbor to the Bay, a 125 mile AIDS benefit bike ride from Boston to Provincetown has raised over $5 million for four local HIV/AIDS organizations, including AIDS Action. 100% of all rider-received pledges directly supports the programs and services of the organization.
2018 was the twelfth year AIDS Action has participated, with 51 riders and crew members. The Harbor to the Bay ride raised almost $60,000 for AIDS Action, bringing our organization's total to over $900,000 over the past 12 years to help those with HIV/AIDS live better lives.
Riders
Kaan Apaydin
Franc Castro
Rick McCarthy
Mario De Lucia
Donovan Dowers
Audrey Edwards
Nick Elton
Jesse Elton
Andrea Genser
Allison Guarino
Colin Hildenbrand
Jennifer Hunt
Scott Janovitz
Martin Korinth
Rick McCarthy
Nick Possi-Moses
Lawrence Reichle
Carrie Richgels
Liz Roderick
Sara Rodriguez
Matthew Romeiser
Thomas Schwarz
Carl Sciortino
Andy Short
Gregory Snow
Jason Sobers
Marc Solomon
Brian Weiner
Crew
James Barkley
Luke Bruffee
Peggy Burns
Geraldine Burns
Shari Caplan
Michael Cummings
Joshua de Lara
Andy Diamond
Danny Edwards
Sharon Glasser
Joseph Goodliffe
Jake Kassen
M. A. Ladd
Cameron Lawrence
Regina Manning
Chris McKinnon
Tallyn Owens
Jonathan Potvin
Louise Rice
Tanner Tinso
Brooke Travis
Paul Twitchell
David Woods
Harbor to the Bay photo credit: Caitlin Cunningham
Bayard Rustin Community Breakfast
March 30, 2019, John F. Kennedy Presidential Library and Museum
In 2019, the Bayard Rustin Community Breakfast celebrated its 30th anniversary with the theme, 30 Years, a Charge to Keep and be Kept. The Breakfast commemorates and celebrates the life and work of Bayard Rustin, one of the unsung heroes of the Civil Rights Movement. The Breakfast recognizes the roles of individuals from LGBTQIA+ communities of color in the fight against HIV/AIDS.
The event featured a keynote address by Gary Bailey, Professor of Practice at Simmons University School of Social Work (where he is also the Director of the Urban Leadership Program), and at the Simmons School of Nursing and Health Sciences. Additionally, Professor Bailey is the president of the National ASW-Assurance Services Inc. (ASI) Board of Directors.
The Bayard Rustin Community Breakfast honored two awardees in 2019. Gerald James, Director of Operations at the Boston Public Health Commission, was recognized for his work supporting those living with HIV/AIDS and for his mission to achieve zero new infections with the Bayard Rustin Award for Courage. The Belynda A. Dunn Award for Activism was presented to Michael Dowling and The Medicine Wheel for their deep commitment to the community, supporting those effected by the epidemic through The Medicine Wheel Vigil, a 24 hour vigil held annually for the past three decades as an enduring testimony of love and remembrance in the age of HIV/AIDS. Performances by the Berklee Indian Ensemble & Berklee India Exchange, The Muldrow Sisters Featuring Clyde Cross, and Keith Brinkley rounded out the memorable program.
Chair
Kim Wilson
Committee Members
Roger Carter
Jack Casey
Franc Castro
Harold du Four-Anderson
Nigel Griffith
Gerald James
R. Mason
Allan McClendon
Jonathan Potvin
Carrie Richgels
Phil Robinson
George Williams
Presenting Sponsor
American Heart Association
Ruby Sponsors
Gilead
Sapphire Sponsors
Beth Israel Deaconess Medical Center
Community Sponsors
AARP
Gourmet Caterers
Media Sponsor
Edge Media Network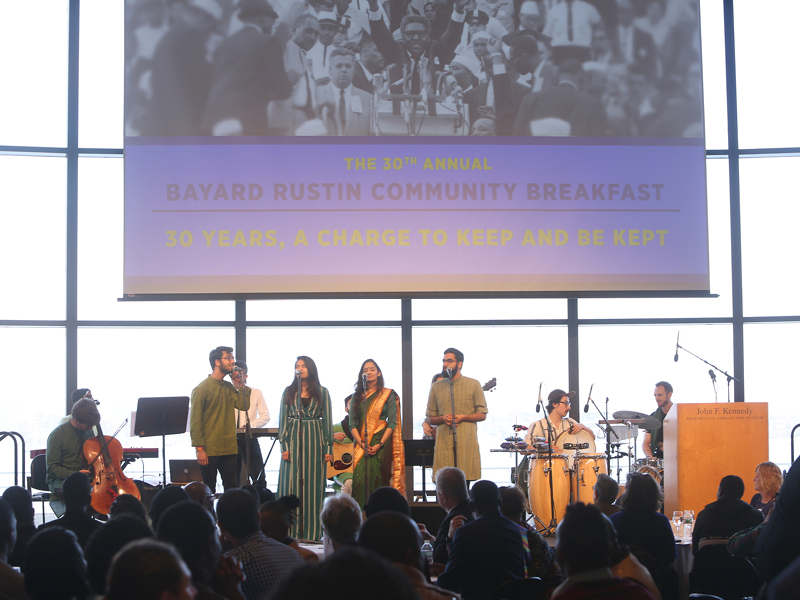 Photo Credit: Deborah Karson
Chandler Street Block Party
June 8, 2019, Chandler and Berkeley Streets
A Boston Pride tradition, AIDS Action hosted the annual Chandler Street Block Party on June 8th immediately following the Pride Parade. The Chandler Street Block Party drew over 4,800 revelers to dance and socialize outdoors in the heart of Boston's South End neighborhood. The 2019 event brought in almost $103,000 to help fund the programs and service of AIDS Action and support local LGBTQIA+ sports leagues and our neighbors at the Animal Rescue League.
Presenting Sponsor
Bud Light
Community Business Partners
ONE Condoms*
Nift*
*In-Kind Donation
Scott Riklin Memorial Golf Tournament
June 21, 2019, Juniper Hill Golf Course
On June 8, 2018, the 22nd Annual Scott Riklin Memorial Golf Tournament was held at the Juniper Hill Golf Course in Northborough, MA. This wonderful event, hosted by the Riklin Family, raised almost $10,000 to support AIDS Action. Held in memory of Scott Riklin, this grassroots event has become an important fundraiser for AIDS Action, with more than $110,000 raised to date. Special thanks to the event organizers, Jeff Riklin, and the event's generous supporters and donors.
In-Kind Donors
Concord's Colonial Inn
Ecotarium
Roche Bros. Supermarkets
Tides Restaurant & Pub
Kimball Farm
Sunny Hill Resort & Golf
Thunderhart at Sunny Hill